Planned Gifts Benefit You — and The Episcopal Academy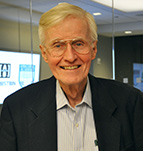 Meet Our Donors
Gilbert Parker '57
Gil Parker arrived at The Episcopal Academy in 8th grade after starting school in the Philadelphia school system. His parents made a decision that his education needed more substance, focus and challenge and arranged for Gil to enter Episcopal. Gil sees his years at Episcopal as the pivotal point in his education, opening many new and exciting career opportunities for him.
Read More

Did you know there are creative ways to support The Episcopal Academy? Ways in which EA, you and your loved ones all benefit at the same time?
Such giving techniques are called "planned gifts," because with thoughtful planning, you create win-win solutions for you and EA. For example:
You can make a gift that costs nothing during your lifetime.
You can give stock and realize larger tax savings.
You can get a monthly paycheck for life in return for your gift.
You can give an asset you no longer need, such as life insurance or a vacation home.
Where to Begin?
Don't Know Where to Begin?
Ask us questions, or play with Plan-a-Gift®, our online interactive gift planning tool!